Serving the Local Community
HONITON LIONS NEWS
---


You can now follow us on Twitter and Facebook "top right"
---
See Honiton & District Facebook
---
Forthcoming event
Thurs' 18th Oct
CALL TO ACTION
Lions Ladies Pamper evening Kings House Day Centre Honiton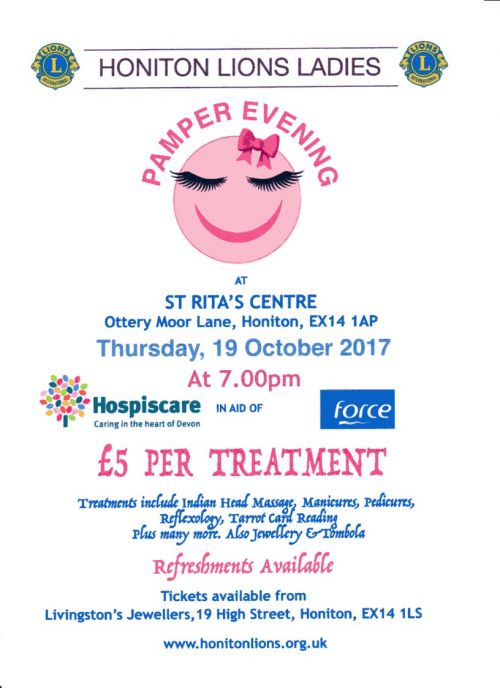 Come along and join in, relax with a whole range of wonderful treatments at £5 each - All funds raised will be split between Force and Hospiscare - Tickets at the door or via Livingston's Jewellers, 119 High St, Honiton.
---
Wed' 3rd Oct - Honiton
£600 to Karate club
Club presented £600, (£300 from Club and £300 from Lions Ladies) to local Karate Club by Lion Club President Jamie at The Honiton Sports Centre in school lane.
---
Thurs' 16th Aug - Weston
Ducks away - finally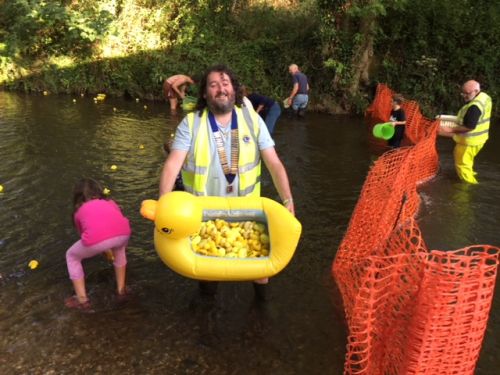 Following the postponement from Sunday due to the weather, the ducks finally got away on to the river Otter at the Otter Inn. UPDATE Winners..1st 2378, 2nd 1881, 3rd 1674, 4th 20, 5th 2118, 6th 2045, 7th 2162
---
Fri' 10th Aug Ottery St Mary
Ottery St Mary Library, £150 for Lego playgroup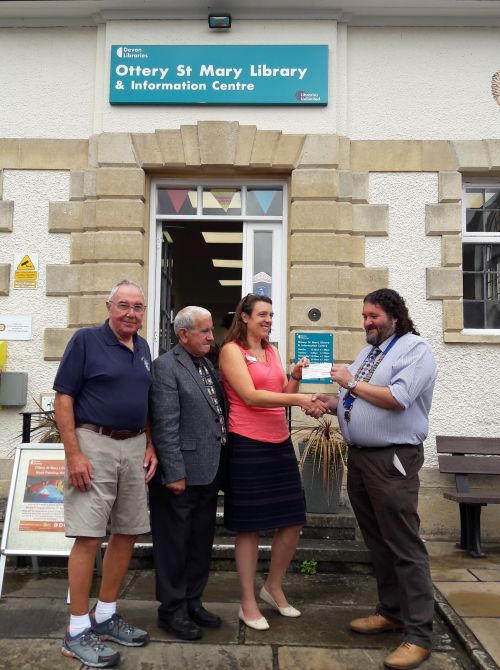 With the planned start a weekly Lego club at Ottery St Mary Library, the requirement for some Lego to get them started was received. The Club assisted with £150 towards any purchase.
---
Sat, Aug 4th - Honiton
£1670 presented to Cancer research after MOLE DAY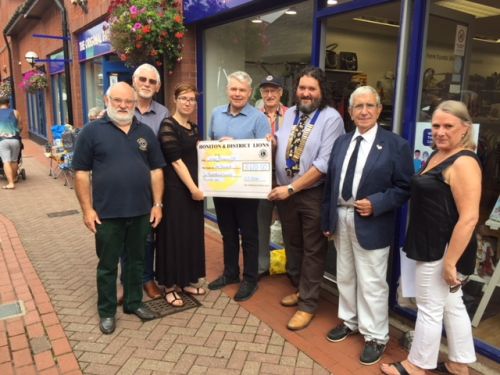 £1670 presented by Lion President Jamie, accepted by Briony Gotch Shop Manager in Honiton, for Cancer Research (Money directed to Skin Cancer research group), on behalf of Consultant dermatologist Dr Tony Downs for the SW, Honiton Lions and Honiton Surgery doctors, who together processed 167 people in 3 ½ hours, with 8 referrals following the astonishingly successful MOLE DAY held on the 7th July.
If you are new to Lionism, through these pages you will be able to find out about the work of the international organisation of Lions and our Lions Club in particular. If you are a Lion, and planning to visit our area, we hope that the information on our website will encourage you to visit us.
| | | |
| --- | --- | --- |
| | | |
| 41 years supporting the community in 2018 | | Honiton Town High Street |
Honiton & District Lions Club - Devon, formed in 1977
Retired or just moved into area - Want to make new friends?
Have you some time to spare?
Interested in Joining the Honiton and District Lions Club -
And help us with some of our other projects, fundraising or maybe join us for a social evening hopefully you will enjoy the activity!


Lion President John (left) hands over to New Lion President Jamie (right) for 2018/19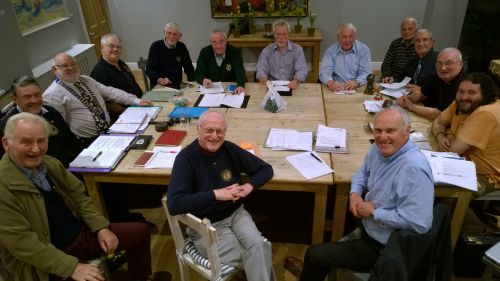 Evening meeting for the Honiton & District Lions Club members.
Some Numbers about Lions..............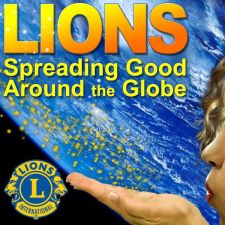 Registered Charity Number 1179058