Serving the Local Community
HONITON LIONS NEWS
---

You can now follow us on Twitter and Facebook "top right"
---
Forthcoming event Sun' 14th Aug - Lions Duck Race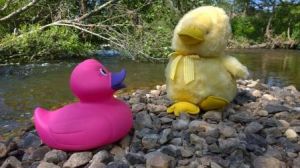 At the Otter Inn, Weston, fun and games from 1200 onward. Lots of attractions for the family and the Duck Race at 1400 with 8 big prizes inc £150 for first.
---
Sat' 21st May - Tesco Honiton
Collection Tesco, positive comments

Thanks to Tesco Honiton, the Lions were out there by the door on a very cold wet, windy Saturday collecting. The Club has to thank everyone who stopped to talk to us, and for the many positive comments Club received.
---
Tues' 18th May - Honiton College
Jump to it - £500 towards 10 Hurdles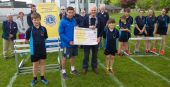 It was time to for the Lions to "jump to it" following a request for 10 competition specification hurdles from the College. Given the Lions support for youth, this was an easy decision. Lion President Steve presented a cheque for £500 towards the 10 hurdles purchased to Hannah Bown, Andy Taylor and members the College Athletics Club.
---
Tues' 18th May - Honiton Surgery
Presenting 15 blood pressure monitors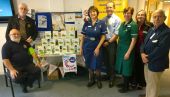 The Honiton Lions were very pleased to assist the community through Honiton surgery, by supplying 15 home use blood pressure monitors. The staff and Doctors thanked the Lions Club as it will assist a considerable number of people who attend surgery.
---
Thurs' 5th May - Dunkeswell
£400 towards local Village Defibrillator

Mrs Pym MBE who organised the fundraising for the Dunkeswell village Defibrillator received a donation of £400 from Lion President Steve. Mrs Pym expressed her thanks for Lions contribution.

---

Sat' 23rd April - Payhembury Village
£200 towards Village Defibrillator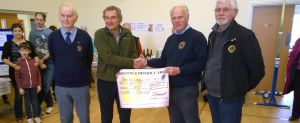 Dr Tim Cox receives a cheque for £200 from Lion President Steve, on behalf of Payhembury Village at their Village information day. This is the first donation towards a defibrillator, which is to be located in the village.
---
Sat 23rd April, Honiton
Lions Ladies plant stall in Honiton
The Lions Ladies just happened to pick a bright, windy, but very cold day to run their plant stall. Despite the cold the Ladies held out to collect £355 toward local community projects.
---
Thur' 21 April - Honiton
£1500 for TRIP Community Transport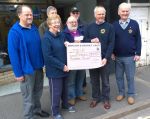 Following on from the Devon Youth Jazz Orchestra fund raising event to a full house at the Beehive Honiton, in aid of TRIP community transport. The Honiton Lions presented £1500, the Clubs second largest amount ever given to TRIP, helping the community that assists the community.
---

Tues' 12th April - Honiton
Charity Easter Eggs "crack" £2000
19 Local business help Honiton Lions to their best ever results from the raffling off the Easter eggs. Just pa
ssing the £2000 mark for the first time. 6 local Schools also received a donated egg
Apart for the funds going back into the local community, several business selected their charities.
---
If you are new to Lionism, through these pages you will be able to find out about the work of the international organisation of Lions and our Lions Club in particular.
If you are a Lion, and planning to visit our area, we hope that the information on our website will encourage you to visit us.
40 years supporting the community in 2017 Honiton Town High Street
Honiton & District Lions Club - Devon, formed in 1977


Retired or just moved into area - Want to make new friends?
Have you some time to spare?
Interested in Joining the Honiton and District Lions Club -
And help us with some of our other projects, fundraising or maybe join us for a social evening hopefully you will enjoy the activity!
Lion President Steve 2015-16


Honiton Lions Club members.
Some Numbers about Lions..............

Soon to be our 100th birthday