Serving the Local Community

HONITON LIONS NEWS
---

You can now follow us on Twitter and facebook "top right"
---
27th Feb 2016 - Honiton Beehive Forthcoming event For TRIP Devon Youth Jazz Orchestra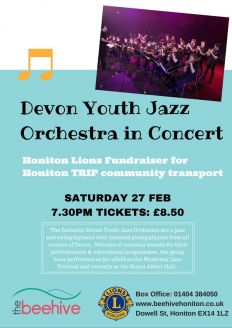 Starting at 19:30 there will be 2 hours of Jazz pleasure. The event is on behalf of and raising money for TRIP Honiton. Tickets will be £8.50. As part of the clubs commitment to youth and the community, we welcome you to support both on the evening.
---
Tues'24th Nov - Honiton
£1000 to Hospiscare from Lions Ladies

With all the hard work and events from 2015, so Lyn Guilbert, wife of the Clubs President for 2015/16 from the Lions Ladies presented £1000 to Trevor Bolshaw from Hospiscare
---
Mon' 16th Nov - Honiton
Anonymous Gift to Freewheelers

A duck race winner who wishes to remain anonymous, has asked the Lions to forward and present their £100 to the Freewheelers. This was duly done to Ali McKenzie from Freewheelers.

---
Sat, 10th Nov - Honiton
Tesco charity collection

Happy Lions collecting at Tesco Honiton towards Tesco's charities for the year and for the local community.
---
Wed' 11th Nov - Honiton
£250 towards Towns Christmas lights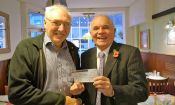 As a big thank you for the support shown by the Towns Businesses and Chamber of Commerce, Lion Bob presents Chamber of Commerce Chairman Colin Wright, with a cheque for £250 towards the Towns Christmas lights.
---
Thurs' 5th Nov - Ottery St Mary
Tar Barrels, Eat for Charity, £1k raised
Great Evening and thanks to all the customers who did "eat for charity". By the old fire station, the Lions BBQ stand offered some of the best hamburger's etc in town.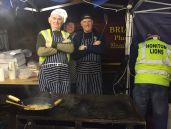 By the end of the evening over £1000 raised for the local community.
---
Sun' 18th Oct - Honiton
Honiton Community Theatre Company, £250 towards microphone system


Working in and for the local community the Honiton Community Theatre Company require a new wireless microphone system. Lions help them on their way with £250 grant
---
Sat' 10th Oct - Honiton
Tesco Collection Honiton

Thanks to everyone who contributed to our collection at Tesco Honiton, raising funds for Tesco Charities and the Local Community.
---
Wed' 7th Oct - Honiton
Lions Ladies Pamper Evening, for HospisCare and Force raises £450


The Lions Ladies Pamper evening proved very popular again being pampered as much as they wanted. Treatments inc. Indian head massage, Manicures, pedicures, reflexology - stalls and jewellery.

---

Sat'26th Sept - Honiton Lions Ladies at Hospiscare

BBQ, Plants, Bric a Brac, Preserves, Plate Smashing and wonderful Septí sun meant we were well supported, Inc. by the Town Cryer and Mayor. Raising £500+ at the event
---


If you are new to Lionism, through these pages you will be able to find out about the work of the international organisation of Lions and our Lions Club in particular.
If you are a Lion, and planning to visit our area, we hope that the information on our website will encourage you to visit us.
Honiton Town High Street
Raising funds across the area from, the Classic car show & Duck race in Honiton, to the BBQ at Tar Barrels and Carnival in Ottery St Mary
Honiton & District Lions Club - Devon, formed in 1977
Have you some time to spare?
Interested in Joining the Honiton and District Lions Club -
And help us with some of our other projects, fundraising or maybe join us for a social evening.
Any and all help is gratefully received - and hopefully you will enjoy the activity!
Some Numbers about Lions..............
Lion President 2015-16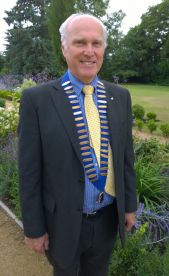 Lion President Steve 2015-16 Honiton Lions Club members.
HANDOVER 2015/16 at Deer Park Hotel, Honiton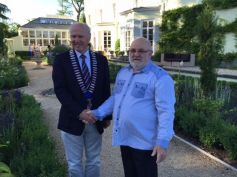 Outgoing President Lion Brian, incoming President Lion Steve
Welcome to the 38th Honiton Lions Charter Evening 29 May 2015

Top Table headed by105SW DG Lion Alan Good
Soon to be our 100th birthday