Serving the Local Community.
HONITON LIONS NEWS
---

You can now follow us on Twitter and facebook "top right"
---
Sun' 10th Aug
Otter Inn, Weston
Annual Duck Race & Fête

The weather smiled on us !! With an excellent turnout of people, from the local area to the duck race purchasing a considerable number of tickets. The main beneficiary this year will be Headway Honiton, members of the girl guides plus other local charities.

The Honiton The Twirlstars also join in with their dance routine on the Otter Inn green by the river.
The 5 cash prize tickets numbers
£150 - 839, £100 - 637, £75 - 812 £25 - 896, £25 - 111. Red duck race winner nr.36 for business Hybrid gallery

---
Sat 2nd Aug
£100 & £75 each to two Girl Guides


Before they set off to Switzerland two Girl Guide are presented with cheques for £100 and £75 each after both selling Duck race tickets for the club.
---
Sat 26th July
Classic car day on Allhallows Honiton.
Being on the same day as the town's market charter day and with over 40+ entrants, plus a falconer and many stalls from local charity shops in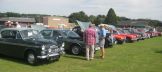 town, the Lions were very well visited and supported by the towns folk.
From the BBQ to bacon sarnies, plants to bric-a-brac. The Lions were able to a splash of colour to the towns Charter day.
---
Tues 24th June - Weston, Honiton
Presidents Handover 2014/15 gets visitors from Finland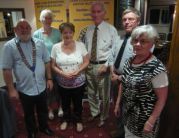 Juhani Haveri and his wife Paula Haverei, from Finnish Lions Club in Ikaalinen Finland added a different slant to the handover dinner at the Otter Inn for 2014/15. With the outgoing President Lion Ed handing over to incoming President Lion Brian, with some well injected humour from Lion Steve. Juhani Haveri speaking to the Club thanked everyone for enjoyable evening, wishing the club success for the forthcoming year
---
Friday 20th June
£500 Laptop Presentation to Headway

As normal, it is the tradition for the outgoing Honiton Lions President, this year Ed Pescud, to nominate for their charity of the year. Lions President Ed has always worked with and supported Headway in Honiton, so making the decision was simple. a new £500 Laptop and Software was made. Ed was then joined by Jackie Wheadon with other members of the Headway staff and ladies and gentlemen who attend the Day Centre for the presentation.
---
Sat 31st May - Honiton
Lions Ladies out with their plant stall

Nothing to stop the Lions Ladies getting their plant stall out, even if it followed a late evening. With a splendid show of plants to tempt the folks of Honiton on a warm but overcast morning.
---
Sat 31st May - Honiton,
Special Childs Car Seat Purchased for local family
Recently being contacted by a children's occupational therapist about the special requirement of a local Honiton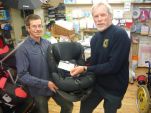 resident and their young child, it was a case for the Honiton Lions Club and Devon Pram Centre working together to assist with this request.
---
If you are new to Lionism, through these pages you will be able to find out about the work of the international organisation of Lions and our Lions Club in particular.
If you are a Lion, and perhaps planning to visit our area, we hope that the information on our website will encourage you to visit us.


Honiton Town High Street
Honiton & District Lions Club - Devon, formed in 1977
Have you some time to spare?
Interested in Joining the Honiton and District Lions Club - MEMBERSHIP INFORMATION
And help us with some of our other projects, fundraising or maybe join us for a social evening.
Any and all help is gratefully received - and hopefully you will enjoy the activity!
Some Numbers..............
Lion President 2014-15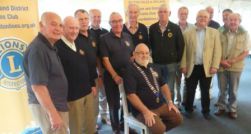 Lion President Brian 2014-15 Group of the clubs members.
HANDOVER 2014/15 at Otter Inn Weston, Honiton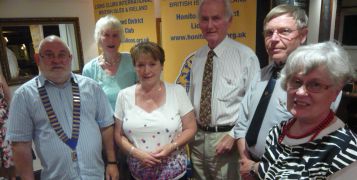 Outgoing President Lion Ed, incoming President Lion Brian with Lion Juhani Haveri and his wife Paula Haverei, visiting from Finland
May 30th - Clubs 37th Annual Charter Evening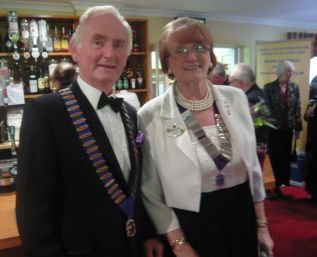 DG 105sw Marianne Warren with Lion President (2013/14) Ed Pescud, Honiton & District Lions Club