Serving the Local Community
HONITON LIONS NEWS
---

You can now follow us on Twitter and facebook "top right"
---
April 2016 - Shopping & Cream teas Forthcoming event Day out - TRIP to Otter Nurseries
Funded by the Lions, the Club is arranging to find up to 30 deserving local people who would like a day out of their homes to Otter Nurseries for shopping and Cream teas. TRIP community Transport will collect and return home those wishing to have a day out on the Club. Contact us for info.
---
27th Feb 2016 - Honiton Beehive Forthcoming event For TRIP
Devon Youth Jazz Orchestra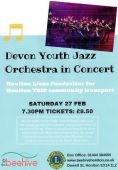 Starting at 19:30 there will be 2 hours of Jazz pleasure. The event is on behalf of and raising money for TRIP Honiton. Tickets will be £8.50. As part of the clubs commitment to youth and the community, we welcome you to support both on the evening.
********** BOOK HERE *********
---
Wed 10th Feb - Honiton Beehive TRIP Jazzing it up fundraising

Getting together before the event at the Beehive on the 27th Feb, TRIP with the Lions getting ready to receive the Devon Youth Jazz Orchestra.
---
Thurs' 21st Jan - Honiton
£500 for new TRIP Uniforms


On a grey January afternoon the Lions brightened up the day for TRIP Community Transport. Lion President Steve hands over a cheque for £500 to their Chairman Val Royle, for new driver uniforms.
---
Sat' Jan 16th - Honiton
£100 towards Student off to Ghana

Following request in to the Club from a Honiton student, Nathaniel Waldron, who is going out to Ghana for 3 months, assisting with youth / disability right and female empowerment. The Club topped up his saving from his work at Costa Coffee by £100.
---
Wed' Jan 13th - Honiton£500 Tesco Honiton charities

The Club opens 2016 with a presentation of £500 to Tesco Honiton in appreciation for the cooperation in working in and with the community during 2015. The funds go direct to Tesco's "charities of the year" Diabetes UK and the British Heart Foundation.
---
Happy New Year Folks

Honiton and District Lions Club enters another year working with and for the local community - AND thanks to everyone who assisted and contributed in 2015.
---
Sat' Dec 19th - Honiton
Lions Christmas collection at Tesco Honiton

Big thanks to Tesco Honiton and the community for supporting the Lions over the past year. It was amazing to note just how many people stopped and spoke to us about the work the Club has done in the community. Thank you again Honiton.
---
If you are new to Lionism, through these pages you will be able to find out about the work of the international organisation of Lions and our Lions Club in particular.
If you are a Lion, and planning to visit our area, we hope that the information on our website will encourage you to visit us.
40 years supporting the community in 2017 Honiton Town High Street
Raising funds across the area from, the Classic car show & Duck race in Honiton, to the BBQ at Tar Barrels and Carnival in Ottery St Mary
Honiton & District Lions Club - Devon, formed in 1977
Have you some time to spare?
Interested in Joining the Honiton and District Lions Club -
And help us with some of our other projects, fundraising or maybe join us for a social evening.
Any and all help is gratefully received - and hopefully you will enjoy the activity!
Some Numbers about Lions..............
Lion President 2015-16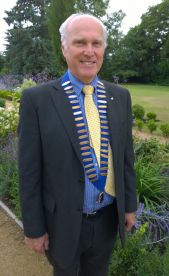 Lion President Steve 2015-16 Honiton Lions Club members.
HANDOVER 2015/16 at Deer Park Hotel, Honiton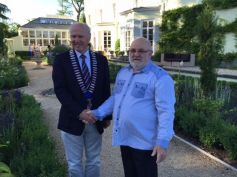 Outgoing President Lion Brian, incoming President Lion Steve
Welcome to the 38th Honiton Lions Charter Evening 29 May 2015

Top Table headed by105SW DG Lion Alan Good
Soon to be our 100th birthday