Serving the Local Community.
HONITON LIONS NEWS
---

You can now follow us on Twitter and facebook "top right"
---
Advanced Notice - Wed Nov 5th
Ottery St Mary, Tar barrels - "Eat for Charity" Lions BBQ stand.
Same again as other years, welcome to the Nov 5th Honiton Lions BBQ stand where you can eat (possibility) the best hamburger's, etc in town expertly cooked and served up by wonderfully friendly "staff"
.
Come and "Eat for Charity" with all profit made that evening going back into the local community.
You will find us by the Old Fire Station as normal - the Lions look forward to serving you.

---
Thur 9th Oct - Honiton
Honiton Lions' Ladies 2014 Pamper Evening
Well the doors opened and the ladies flooded in for their pamper evening treatments, which included Reflexology, Nails, Indian Head Massage, Facials, Reiki, Colour guidance and Tarot readings.
By the end of the evening the total raised, which will be split between to Hospiscare Day Care Centre Honiton and FORCE cancer charity was £567.50.
The Lions Ladies are very grateful to the practitioners for their involvement and also for the support given by all those who attended on the evening.
---
Wed 1st Oct - Exeter
60" interactive TV & Screen to WESC
West of England School & College for visually impaired
Hidden away in the suburbs of Exeter there is a remarkable establishment - The West of England School & College for

visually impaired doing some exceptional work for 100+ students from the ages of 5 to 25. From normal school studies, to adapting to life with a visual impairment. Presenting the new interactive TV & Screen to Jon Duckham at WESC saying it would greatly assist their students lifestyle.

---
Sat 27th Sept - Honiton
Honiton Rugby Club gets New Scoreboard

Lions Presented Honiton Rugby Club with a new scoreboard sponsored by the Club for all to see, including the opposition, as Honiton Rugby club take hold of the game!!.
Much welcomed by the Rugby Club with a big thanks to the Honiton Lions from the Clubs chairman and players.

---
Sat' 30th Aug - Honiton
£300 from Hybrid Gallery to East Devon Cystic Fibrosis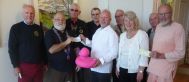 As winners of the RED Duck race for businesses in Honiton, Hybrid Gallery had the pleasure of nominating and presenting the £300 collected to their selected local charity, which was East Devon Cystic Fibrosis Quality of life Fund - Liz Brown from the charity collects the cheque from Tim Woolgar of Hybrid Gallery after receiving it from Lion President Brian Richards.
---
Fri' 29th Aug - Ottery St Mary
£250 to VisionOM

Following a request to assist Vision OM a local organisation in Ottery St Mary whose aim is to assist the blind/partially sighted, with expenses such as, fuel for their Mini-Bus.
---
Thurs' 28th Aug - Honiton
£100 for another local Volunteer

Lion Tom presenting Charlotte Miller-Ratcliffe an assistant leader at 1st Feniton Brownies with cheque for £100 before setting off to Botswana living with a local family and involved in a community work project along with a counterpart from the country.
---
Tues' 26th Aug, Honiton
£97 for Local Student Volunteer
Lion President Brian Richards presents Yazmine Hoyle studying at Honiton Community

College, with a cheque for £97 (assisted Lions with duck race) towards her Outreach International trip to Ecuador. Yazmine will be volunteering to work in a day care centre, looking after children for 4 weeks.
---
If you are new to Lionism, through these pages you will be able to find out about the work of the international organisation of Lions and our Lions Club in particular.
If you are a Lion, and perhaps planning to visit our area, we hope that the information on our website will encourage you to visit us.


Honiton Town High Street
Honiton & District Lions Club - Devon, formed in 1977
Have you some time to spare?
Interested in Joining the Honiton and District Lions Club - MEMBERSHIP INFORMATION
And help us with some of our other projects, fundraising or maybe join us for a social evening.
Any and all help is gratefully received - and hopefully you will enjoy the activity!
Some Numbers..............
Marie Curie's Great Daffodil Appeal 2015 - Lions Clubs to support the Great Daffodil Appeal for 3rd year.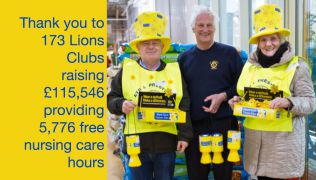 Lion President 2014-15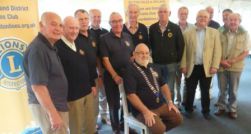 Lion President Brian 2014-15 Group of the clubs members.
HANDOVER 2014/15 at Otter Inn Weston, Honiton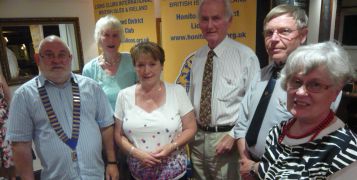 Outgoing President Lion Ed, incoming President Lion Brian with Lion Juhani Haveri and his wife Paula Haveri, visiting from Finland
May 30th - Clubs 37th Annual Charter Evening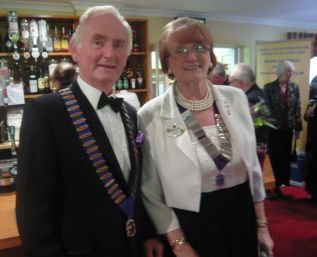 DG 105sw Marianne Warren with Lion President (2013/14) Ed Pescud, Honiton & District Lions Club