Serving the Local Community
HONITON LIONS NEWS
---

You can now follow us on Twitter and Facebook "top right"
---
Sat' 23rd April - Payhembury Village £200 towards Village Defibrillator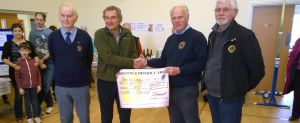 Dr Tim Cox receives a cheque for £200 from Lion President Steve, on behalf of Payhembury Village at their Village information day. This is the first donation towards a defibrillator, which is to be located in the village.
---
Sat 23rd April, Honiton
Lions Ladies plant stall in Honiton
The Lions Ladies just happened to pick a bright, windy, but very cold day to run their plant stall. Despite the cold the Ladies held out to collect £355 toward local community projects.
---
Thur' 21 April - Honiton
£1500 for TRIP Community Transport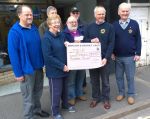 Following on from the Devon Youth Jazz Orchestra fund raising event to a full house at the Beehive Honiton, in aid of TRIP community transport. The Honiton Lions presented £1500, the Clubs second largest amount ever given to TRIP, helping the community that assists the community.
---

Tues' 12th April - Honiton
Charity Easter Eggs "crack" £2000
19 Local business help Honiton Lions to their best ever results from the raffling off the Easter eggs. Just pa
ssing the £2000 mark for the first time. 6 local Schools also received a donated egg
Apart for the funds going back into the local community, several business selected their charities.
---
Sat' 26th March - Honiton
Spring Collection Tesco Honiton

Thank you to everyone who supported the Honiton Lions at their Spring Collection at Tesco Honiton. Again every penny collected goes back into the local community with NO administration charges.
---
Tues' 22nd March - Honiton
New Member welcomed to Club.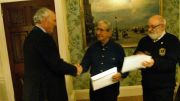 Honiton and District Lions Club welcomes John Quinton-Navarro as a member of the Club. Lion President Steve with Membership Chairman Brian "badge up " John as he is welcomed in by all members of the club.
---
Sun' 20th March - Ottery St Mary
Wheelbarrow raffle at Otter Nurseries


With a donation from Otter Nurseries and a wheelbarrow on offer it did not take long to get visitors to Otter Nurseries to sign up for a chance to win this wonderful prize.Winner Mrs Roach
---
Thur' 3rd March - HALFF Axminster
£100 Healthy cooking session Honiton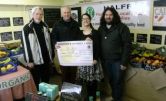 HALFF a small charity delivering food education to families, children and the elderly on skills for preparing nutritious foods to improve their health. £100 towards class run in Honiton. Lions Steve, Jamie and Tom along with Emma Styles from HALLF.
---
If you are new to Lionism, through these pages you will be able to find out about the work of the international organisation of Lions and our Lions Club in particular.
If you are a Lion, and planning to visit our area, we hope that the information on our website will encourage you to visit us.
40 years supporting the community in 2017 Honiton Town High Street
Honiton & District Lions Club - Devon, formed in 1977


Have you some time to spare?
Interested in Joining the Honiton and District Lions Club -
And help us with some of our other projects, fundraising or maybe join us for a social evening hopefully you will enjoy the activity!
Lion President Steve 2015-16


Honiton Lions Club members.
Some Numbers about Lions..............

Soon to be our 100th birthday