Serving the Local Community.
HONITON LIONS NEWS
---

You can now follow us on Twitter and facebook "top right"
---
FORTHCOMING EVENT
Sun' 9th Aug 2015 Otter Inn, Weston DUCK RACE - Ducks away 2:15pm

Come and join in the fun of the Honiton and District Lion Club Duck Race.
Duck race tickets at a £1 each are available on the day or sold on most Saturdays in Honiton Town centre on the lead up to duck race day
There are 5 cash prizes to be won
1 x £150, 1 x £100, 1 x £75 and 2 x £25 for the winning ducks.
Detail see above tab or "click here"

---
FORTHCOMING EVENT
Sat 25th July, Honiton Devon
Classic Car Show Day
Welcome to the Honiton and District Lions 6th Classic Car day to be held at The Allhallows Ground Northcote Lane, Honiton, Devon.
See above tab "Classic Car Day" for full details
---
Fri' June 12th - Whimple
£500 towards £4K Careflex chair
For a 47yr old lady who has secondary progressive MS now struggling with certain aspects of her personal care and daily living tasks. Assisted funding enabled the purchase of a suitable chair allowing the lady to sit having better postural seating and support, it means she can also elevate her legs and rest during the day.
---
Sat' May 30th - Honiton Honiton Hospital The League of Friends
Honiton Lions took their "crockery smashing stand" to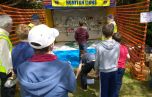 the Honiton Hospital afternoon Fete. Again the "plate smashing" proved a hit with young and older visitors over the 2 hours. Lots of broken crockery to clean up at the end.

---
Fri' 29th May - Honiton
38th Honiton Lions Charter Evening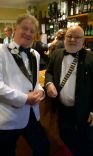 It's that time of year when Honiton & District Lions Club celebrate their founding. Entering our 38th year, 60 Lions and guests from 6 local Clubs joined Honiton & District at the Tumbling Weir Hotel. 105sw DG Alan Good was welcomed, starting at the bar with Lion President Brian Richards.
---
Sat' 23rd May - Honiton
£100 for Honiton Gymnastics Club
Honiton Gymnastics Club has gained a reputation far and wide, nationally and internationally for their expertise. The Club has a membership that reflects this from the South West area, but like all Clubs has to constantly seek funds for new equipment. Following a request the Lions gifted them £100 towards new equipment.
---
Sat' May 23rd - Tesco Honiton
May Collection

Thanks to Tesco's community plan the Lions are given the opportunity to collect funds for local charities and Tesco's charities of the year, supported by Louisa, their communities champion.
---
Mon' 4th May - Honiton
Upright arm chair delivered

An 89 year old gentleman just released from hospital required an upright arm chair. On receiving the request from the local occupational therapist, so the Club found the type required and delivered it direct to him. The smile on his face said it all.
---
Sat' 2nd May - Honiton
Wet BUT fun at Sausage and Cider

£2100 Defibrillator presented.


Supporting the Devon Freewheelers – The Honiton and District Lions Club had 3 stands there – for books, sweets for children and

the BIG one was the crockery smashing. Despite the weather it attracted a steady flow of people venting their stress on the crockery. The Lions had a one big surprise for Freewheelers on Saturday, a £2100 Easiport Defibrillator for one of their fast response bikes – it could save a life.

---
Sun 5th April Easter Sunday
£2000+ raised as 26 1Kg donated Easter Eggs get raffled off.

As many businesses, including
Wine World & Otter Nurseries raffled off the donated 1Kg Easter Eggs, together with local Schools, such as Plymtree & Upottery. This facilitated the raising of funds for many local projects.
---
If you are new to Lionism, through these pages you will be able to find out about the work of the international organisation of Lions and our Lions Club in particular.
If you are a Lion, and perhaps planning to visit our area, we hope that the information on our website will encourage you to visit us.


Honiton Town High Street
Honiton & District Lions Club - Devon, formed in 1977
Have you some time to spare?
Interested in Joining the Honiton and District Lions Club - MEMBERSHIP INFORMATION
And help us with some of our other projects, fundraising or maybe join us for a social evening.
Any and all help is gratefully received - and hopefully you will enjoy the activity!
Join us at The Lions and Markat Charter day

See further information at VISIT HONITON
Some Numbers about Lions..............
Welcome to the 38th Honiton Lions Charter Evening 29 May

Top Table headed by105SW DG Lion Alan Good
Lion President 2014-15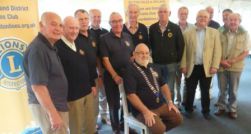 Lion President Brian 2014-15 Group of the clubs members.
HANDOVER 2014/15 at Otter Inn Weston, Honiton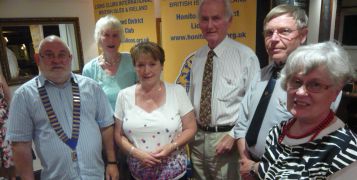 Outgoing President Lion Ed, incoming President Lion Brian with Lion Juhani Haveri and his wife Paula Haveri, visiting from Finland
Soon to be our 100th birthday