Serving the Local Community.
HONITON LIONS NEWS
---

You can now follow us on Twitter and facebook "top right"
---
Mon' Jan 26th - Honiton
Equipment for Honiton youth clubs
Following a request for a table tennis table and table top football made to the Lions, from local people representing youth groups in Honiton, so the Honiton Lions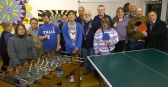 stepped in to assist. Lion President Brian with Lion Bernard presented the equipment to Ken Smith from the 729 group and Sean Brown from the community church group to the "community use building" for all to use.
---
Wed' Jan 21st - Honiton
Hi-Vis jackets to Honiton Scouts

Again, working with youth, Honiton Lions assist Scouts with £125 request for printing onto their Hi-Vis jackets supplied by Specsavers. Lion President Brian takes his place with the presentation to the group.
---
Happy New Year Everyone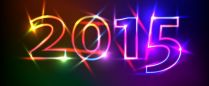 Looks like it is going to be a very busy start to the 2015 Honiton & District Lions Year - 5 social requests on the table for next meeting already
---
Dec 2014
Merry Christmas & A Happy New Year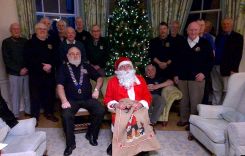 Thank you to everyone who contributed and / or attended a Lions event during 2014 and assisted the club to fund projects and requirements of local people in the Community of Honiton and Ottery St Mary.
---
Sat' 20th Dec - Honiton
Final Lions collection, Christmas at Tesco Honiton

With Father Christmas for support the Club would like to thank Tesco Honiton for their assistance in making The Clubs final collection an amazing event - not just in terms of the collection, but especially in the number of local folk stopping to talk with us about the work the Club had carried out within the community.
---
Wed' Dec 17th - Honiton
130 Senior Citizens at Christmas Dinner in Honiton College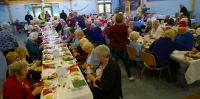 Gary Wills, the FD of the Honiton College gives all the helpers their orders then - Off to a high speed round of welcome drinks trying to keep e

mpty glasses filled. Then it was to the Christmas meal with a raft of volunteers serving. Naturally the Lions got the job of doing the drinks for some reason!!.
Santa was there to assist and join in the entertainment. Enjoyed by all, a great day out.

---
If you are new to Lionism, through these pages you will be able to find out about the work of the international organisation of Lions and our Lions Club in particular.
If you are a Lion, and perhaps planning to visit our area, we hope that the information on our website will encourage you to visit us.


Honiton Town High Street
Honiton & District Lions Club - Devon, formed in 1977
Have you some time to spare?
Interested in Joining the Honiton and District Lions Club - MEMBERSHIP INFORMATION
And help us with some of our other projects, fundraising or maybe join us for a social evening.
Any and all help is gratefully received - and hopefully you will enjoy the activity!
Some Numbers..............
Lion President 2014-15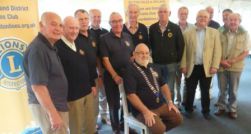 Lion President Brian 2014-15 Group of the clubs members.
HANDOVER 2014/15 at Otter Inn Weston, Honiton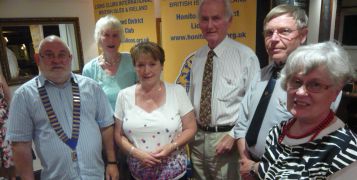 Outgoing President Lion Ed, incoming President Lion Brian with Lion Juhani Haveri and his wife Paula Haveri, visiting from Finland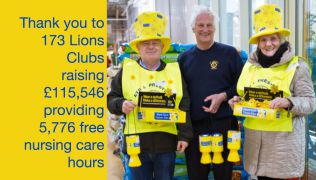 Marie Curie's Great Daffodil Appeal 2015 - Lions Clubs to support the Great Daffodil Appeal for 3rd year.