Serving the Local Community
HONITON LIONS NEWS
---

You can now follow us on Twitter and Facebook "top right"
---
100 years of Lions
And 40 Years in Honiton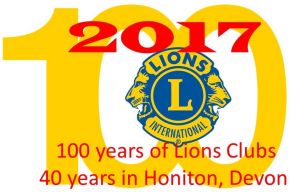 We made it, 100 years world wide and 40 serving Honiton Town Community
---
See Honiton & District Facebook

Sat' 27th May - Honiton Hospital Lets go plate smashing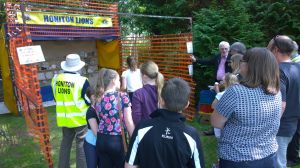 Come and join in the family fun at Honiton Hospital Fête, all for Friends of Honiton Hospital - stressed - smash a plate or more.
---
Fri' 19th May Ottery St Mary
40 Years in Honiton celebrated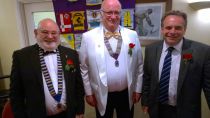 Honiton Lions celebrate their 40th year in Honiton at their Charter evening with 105SW District Governor Fred Broom MJF, accompanied by guest speaker Neil Parish who was taking time out from his schedule during the run up to the General Election. Around 65 Lions and guests from around the East Devon area attended.
---

Tues' 16th May - Honiton
£100 to Hospiscare
Lion President Brian Richards presents

Mary Bolshaw from Hospiscare a cheque for £100 to assist with the King road centre.
---
Easter 2017
Some Lions 1kg Egg winners

Farway Primary School raise over £300 on the Easter egg raffle which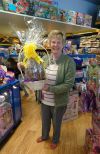 goes a long way to buying the outdoor play equipment that the school needs. Also Eileen walks away as the winner from Honiton Toy Shop raffle.

---

Sat '15th April - Honiton
Tesco Spring collection
Thanks to everyone who donated at the Clubs Spring collection at Tesco Honiton. The funds raised go towards Lions community projects.
---
Sun' April 9th - Ottery St Mary
Great response to Wheelbarrow raffle at Otter Garden Centre

Special delivery by Lion President Brian Richards to Mr and Mrs Jacobs in Cranbrook with winning number 23 - the winners of the wheelbarrow raffle at Otter Garden Centre over the weekend.
The Club would like to thank every

one who participated with their £1's, especially Otter Garden Centre for the donation, with funds raised going to the local community.
---
Tues' 28th - Honiton
Zone Chairman Jim PH volunteers to attend Club meeting !!

Well done to Zone Chairman Jim PH for volunteering to attend the Clubs Welfare / Social meeting. Such events do allow the exchange of ideas and very much welcomed by everyone.
.
If you are new to Lionism, through these pages you will be able to find out about the work of the international organisation of Lions and our Lions Club in particular. If you are a Lion, and planning to visit our area, we hope that the information on our website will encourage you to visit us.
40 years supporting the community in 2017Honiton Town High Street
Honiton & District Lions Club - Devon, formed in 1977
Retired or just moved into area - Want to make new friends?
Have you some time to spare?
Interested in Joining the Honiton and District Lions Club -
And help us with some of our other projects, fundraising or maybe join us for a social evening hopefully you will enjoy the activity!

Lion President Brian for 2016/17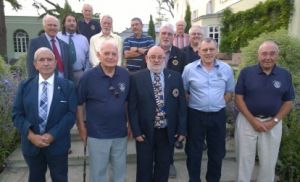 Group of the Honiton & District Lions Club members.
Some Numbers about Lions..............