Serving the Local Community.
HONITON LIONS NEWS
---

You can now follow us on Twitter and facebook "top right"
---
Dec 2014
Merry Christmas & A Happy New Year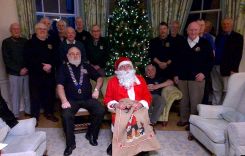 Thank you to everyone who contributed and / or attended a Lions event during 2014 and assisted the club to fund projects and requirements of local people in the Community of Honiton and Ottery St Mary.
---
Sat' 20th Dec - Honiton
Lions Christmas collection at Tesco Honiton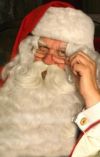 We are heading into winter with the night getting longer, it means that the Honiton Lions, with thanks and assistance of Tesco Honiton will have their Christmas collection on the 20th. The Lions have already been in contact with Father Christmas in Korvatunturi Finland, and he has agreed to attend. We look forward to greeting everyone with a smile on our last collection of the year.
Visit www.santatelevision.com
---
Wed' Dec 17th - Honiton
130 Senior Citizens at Christmas Dinner in Honiton College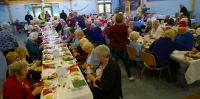 Gary Wills, the FD of the Honiton College gives all the helpers their orders then - Off to a high speed round of welcome drinks trying to keep e

mpty glasses filled. Then it was to the Christmas meal with a raft of volunteers serving. Naturally the Lions got the job of doing the drinks for some reason!!.
Santa was there to assist and join in the entertainment. Enjoyed by all, a great day out.

---
Sat 6th Dec - Honiton
Lions Presidents Christmas Party Swinging 60's - Hippie's.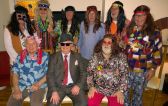 As we get close to the end of the year even the Honiton Lions "go crazy", so to celebrate all the hard work and pleasure of assisting the community the Lions and Lions Ladies went 60's Hippy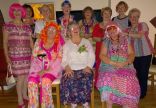 . Is this what you call recycling Lions?? - old never, lots of time to be social.
---
Wed' 3rd Dec - Honiton
£350 toward Diabetes UK
Both Tesco and Lions support Diabetes UK, so working together in Honiton it gave Honiton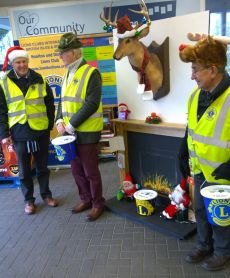 Lions the opportunity to add their support to this national charity, but knowing that locally Diabetes UK is also working within the community.
---
Mon' 1st Dec - Honiton
Annual Senior Citizens Christmas Dinner, £100 Cheque presentation.

As normal at this time of the year, the Club has again agreed to assist the College with a £100 grant and assistance in running the event. Gary Wills, the FD of the College thanked the Honiton Lions for assisting with the Annual Senior Citizens Christmas Dinner, right from the events conception accepting the £100 from the Club.
---
Wed 19th Nov - Honiton
Honiton & Axe Valley Children's Centres
Sofa bed located & delivered
Following a request to assist a local family with a replacement sofa bed for a local deserving family, so the Lions quickly agreed and located the required furniture. This was delivered, with the old furniture removed.
This will make a considerable difference to family living just as Christmas approaches.

---
Wed Nov 5th - Ottery St Mary
Tar barrels - "Eat for Charity" Lions BBQ stand.
Another very busy evening for the Honiton Lions BBQ stand at Tar Barrels. We asked you to "come and Eat

for Charity" with all profit made that evening going back into the local community, and everyone did. Thanks to everyone who stopped by and the positive comments about our local work.
---
Fri 24th Oct - Honiton
Assisting Macmillan Cancer Support collect in Honiton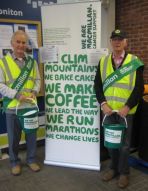 Asked by Macmillan cancer trust to assist with a local collection, so the Honiton Lions responded.
---
If you are new to Lionism, through these pages you will be able to find out about the work of the international organisation of Lions and our Lions Club in particular.
If you are a Lion, and perhaps planning to visit our area, we hope that the information on our website will encourage you to visit us.


Honiton Town High Street
Honiton & District Lions Club - Devon, formed in 1977
Have you some time to spare?
Interested in Joining the Honiton and District Lions Club - MEMBERSHIP INFORMATION
And help us with some of our other projects, fundraising or maybe join us for a social evening.
Any and all help is gratefully received - and hopefully you will enjoy the activity!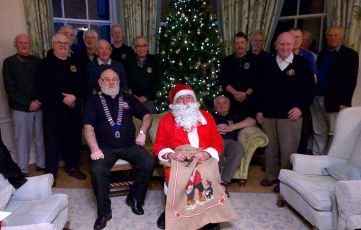 From all the members of the Honiton and District Lions Club, may we wish you all a very Merry Christmas and a Happy New Year.
He is on his way to the Lions and it does look like this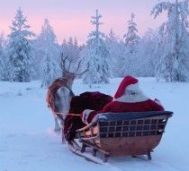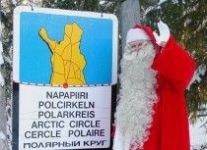 Some Numbers..............
Lion President 2014-15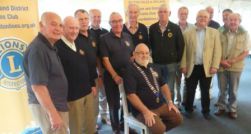 Lion President Brian 2014-15 Group of the clubs members.
HANDOVER 2014/15 at Otter Inn Weston, Honiton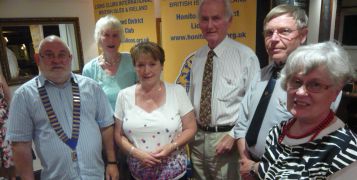 Outgoing President Lion Ed, incoming President Lion Brian with Lion Juhani Haveri and his wife Paula Haveri, visiting from Finland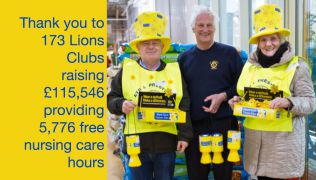 Marie Curie's Great Daffodil Appeal 2015 - Lions Clubs to support the Great Daffodil Appeal for 3rd year.