Serving the Local Community.
HONITON LIONS NEWS
---

You can now follow us on Twitter and facebook "top right"
---
Wed'12th Aug - Honiton
The Books are closed & we made it by £1.09 - The Magic £10,000

What did we do, well thanks to the efforts of our accountant Lion Kevin, checking the "books" the Club has finally broken the £10000 barrier, on the last Lions Club year, even if it was by only £1.09p - but it all counts.
Thanks to everyone in Honiton and the local community who contributed.
---
Sun' 9th Aug 2015 Otter Inn, Weston
DUCK RACE

What a day this was, with a very well attended event by hundreds of people on a very fine August day. Supporting the Lions, their charities & the people of Honiton and the local area.
This year was a record for duck tickets sold, approx. 1750 & money raised. Thank you to everyone who attended.
The RED Duck Business winner was Coverstructures SW Ltd, who will select a charity to receive all the money from business tickets sold.
The Yellow Duck winning numbers......
924 = £150, 179 = £100, 773 = £75 and 1226 & 846 = £25.
---
Sat 25th July, Honiton Devon
Classic Car Show Day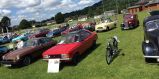 What turned out to be a great day both weather-wise and for everyone attending this the Honiton and District Lions 6th Classic Car day held at The Allhallows Ground Northcote Lane, Honiton, Devon.
---
Fri' June 26th - Honiton
£100 to (Stingrays) swimming club

Presentation of £100 to Honiton Swimming Club (the Stingrays) by Lion President Brian and Lion Kev, to Graham Rooms their chairperson, who accepted the cheque.
---
Fri' June 12th - Whimple £500 towards £4K Careflex chair
For a 47yr old lady who has secondary progressive MS now struggling with certain aspects of her personal care and daily living tasks. Assisted funding enabled the purchase of a suitable chair allowing the lady to sit having better postural seating and support, it means she can also elevate her legs and rest during the day.
---
Sat' May 30th - Honiton Honiton Hospital The League of Friends
Honiton Lions took their "crockery smashing stand" to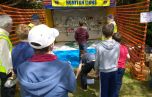 the Honiton Hospital afternoon Fete. Again the "plate smashing" proved a hit with young and older visitors over the 2 hours. Lots of broken crockery to clean up at the end.

---
Fri' 29th May - Honiton
38th Honiton Lions Charter Evening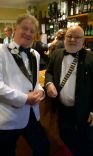 Itís that time of year when Honiton & District Lions Club celebrate their founding. Entering our 38th year, 60 Lions and guests from 6 local Clubs joined Honiton & District at the Tumbling Weir Hotel. 105sw DG Alan Good was welcomed, starting at the bar with Lion President Brian Richards.
---
Sat' 23rd May - Honiton
£100 for Honiton Gymnastics Club
Honiton Gymnastics Club has gained a reputation far and wide, nationally and internationally for their expertise. The Club has a membership that reflects this from the South West area, but like all Clubs has to constantly seek funds for new equipment. Following a request the Lions gifted them £100 towards new equipment.
---
Sat' May 23rd - Tesco Honiton
May Collection

Thanks to Tescoís community plan the Lions are given the opportunity to collect funds for local charities and Tescoís charities of the year, supported by Louisa, their communities champion.
---
If you are new to Lionism, through these pages you will be able to find out about the work of the international organisation of Lions and our Lions Club in particular.
If you are a Lion, and perhaps planning to visit our area, we hope that the information on our website will encourage you to visit us.


Honiton Town High Street
Honiton & District Lions Club - Devon, formed in 1977
Have you some time to spare?
Interested in Joining the Honiton and District Lions Club - MEMBERSHIP INFORMATION
And help us with some of our other projects, fundraising or maybe join us for a social evening.
Any and all help is gratefully received - and hopefully you will enjoy the activity!
Some Numbers about Lions..............
Welcome to the 38th Honiton Lions Charter Evening 29 May

Top Table headed by105SW DG Lion Alan Good
Lion President 2015-16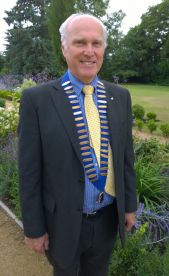 Lion President Steve 2015-16 Honiton Lions Club members.
HANDOVER 2015/16 at Deer Park Hotel, Honiton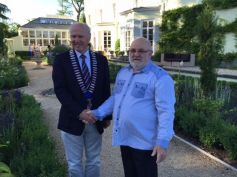 Outgoing President Lion Brian, incoming President Lion Steve
Soon to be our 100th birthday