Serving the Local Community
HONITON LIONS NEWS
---

You can now follow us on Twitter and Facebook "top right"
---
Forthcoming event Sun' 14th Aug - Lions Duck Race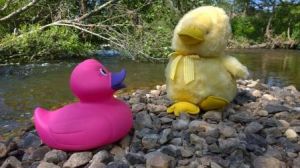 At the Otter Inn, Weston, fun and games from 1200 onward. Lots of attractions for the family and the Duck Race at 1400 with 8 big prizes inc £150 for first.

Just offered first 4 winners presentation packs with a glass
---
Forthcoming event
Lions Classic Car & Fête with Honiton Market Charter day and fun dog show

Sat' 23rd July - Honiton town
The Club is setting up a complete family day out with the Classic cars all lined up on Allhallows Field Honiton. Together with the Classic car show you will find Lions Club food & drink stall, Lions Club plate smashing stall, a bouncy castle and much much more.
Click for ------> Classic car show info
---
Sun' 12th June - Ottery St Mary
Ottery St Mary Fete, Plate Smashing.

The Club was invited to run their popular Plate Smashing stand at the fete, and as normal it proved to be a hit. The Club raised over £100 on the day and thanks everyone who vented their frustration on the plates.
---
Fri' 10th June - Lakeside Manor
Clubs 39th Charter event

The Lions and about 55 guests gather to celebrate the Clubs 39th Charter event, welcoming DG Lion Lesley Clarke. Lion President Steve was very happy to present another excellent year of hard work in assisting the community.
---
Wed' 1st June - Otter Inn Weston
Sponsors £450 towards Duck Race

Honiton businesses back the Club with £450 in prizes and sponsorship for the annual Duck Race on Sun' Aug' 14th. This means there will be 8 prizes this year including the £150 1st prize - Tickets now on sale.
---
Sat' 28th May - Honiton Hospital
Plate smashing, Honiton Hospital Fête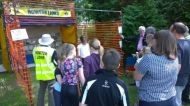 On a wonderful May afternoon big crowds turned out for the Fête, and the Lions think everyone must have been plate smashing. Working non-stop we collected £93 for Friends of Honiton Hospital in the two hours.
Tues' 18th May - Honiton Surgery Presenting 15 blood pressure monitors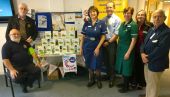 The Honiton Lions were very pleased to assist the community through Honiton surgery, by supplying 15 home use blood pressure monitors. The staff and Doctors thanked the Lions Club as it will assist a considerable number of people who attend surgery.
---
If you are new to Lionism, through these pages you will be able to find out about the work of the international organisation of Lions and our Lions Club in particular.
If you are a Lion, and planning to visit our area, we hope that the information on our website will encourage you to visit us.
40 years supporting the community in 2017 Honiton Town High Street
Honiton & District Lions Club - Devon, formed in 1977


Retired or just moved into area - Want to make new friends?
Have you some time to spare?
Interested in Joining the Honiton and District Lions Club -
And help us with some of our other projects, fundraising or maybe join us for a social evening hopefully you will enjoy the activity!
Lion President Steve 2015-16


Honiton Lions Club members.
Some Numbers about Lions..............

Soon to be our 100th birthday