erving the Local Community
HONITON LIONS NEWS
---

You can now follow us on Twitter and Facebook "top right"
---
Sun' 14th Aug - Weston, Honiton Lions Duck Race - over £2500 raised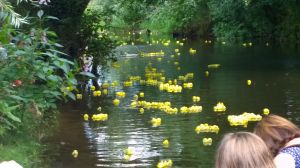 At the Otter Inn, Weston, fun and games took place from 1200 onward. At 2pm 2500 ducks took to the river Otter for charity and helped to raise over £2500 including the corporate red ducks.
Winning Duck numbers:1st: 1193, 2nd 2452 3rd 1372, 4th 276. 5th 242, 6th 80,7th 2186, 8th 1964.

---
Sat' 23rd July - £1300 raised
Lions Classic Car & Fête with Honiton Market Charter day and fun dog show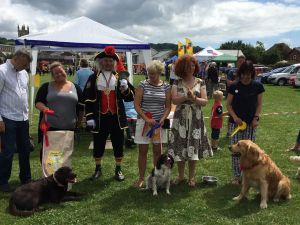 Thanks to all who joined in and contributed to the event
It was announced open.......Great family day out with the Classi

c cars all lined up on Allhallows Field Honiton. Lions Club food &

drink stall, Lions Club plate smashing stall, a bouncy castle, line dancing etc.



---
Fri' 1st July - Handover 2016 / 17
Keepers Cottage, Club Handover

It was that time of year again when you handover responsibility to another member to see you through the next year, especially as it is the Clubs 40th. Lion Brian takes over from Lion Steve to be president.
---
Duck race ticket selling Honiton
Lions in town with duck race tickets


Lions out and about in Honiton selling the duck race tickets
---
Tues' 28th June Hospiscare Honiton
£200 raised by Lions / Hospiscare / Lions / Fulfords Estate Agents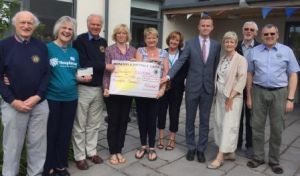 This was a joint effort with Lions assisting Hospiscare & Fulfords Estate Agents who both raised £100 each for Hospiscare.
If you are new to Lionism, through these pages you will be able to find out about the work of the international organisation of Lions and our Lions Club in particular.
If you are a Lion, and planning to visit our area, we hope that the information on our website will encourage you to visit us.
40 years supporting the community in 2017 Honiton Town High Street
Honiton & District Lions Club - Devon, formed in 1977


Retired or just moved into area - Want to make new friends?
Have you some time to spare?
Interested in Joining the Honiton and District Lions Club -
And help us with some of our other projects, fundraising or maybe join us for a social evening hopefully you will enjoy the activity!

Lion President Brian for 2016/17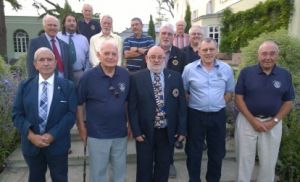 Group of the Honiton & District Lions Club members.
Some Numbers about Lions..............

Soon to be our 100th birthday