Serving the Local Community
HONITON LIONS NEWS
---

You can now follow us on Twitter and Facebook "top right"
---
Wed' 23rd Nov - Honiton
Lions Ladies £750 to Hospiscare & Force

Mary Bolshaw from Hospiscare and David Cantle from ForceCancer each receive £750 follow the successfu

l fundraising at the Lions Ladies Pamper evening.
---
Sat' 19th Nov - Honiton Town
Town Lights switch on with Father Christmas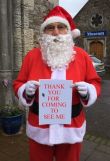 Not the best weather evening, but thank you to Honiton Community for all the support shown.
Thank you to all the children for joining me there, have a very Merry Christmas.
---

Nov 5th Ottery St Mary
Lions BBQ stall at Tar Barrel's "Eat For Charity" - WE SOLD OUT !!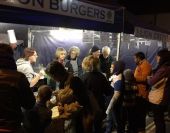 It looks like you did "Eat for Charity" at the Lions BBQ stand - amazing crowds, Lions cooks worked like crazy !! We even sold out of everything by 10:30pm. Club expects to have raised a substantial amount for community projects.

---
Sat' Oct 22nd - Honiton
MOLE SCREENING DAY - by St Pauls Church Honiton Town Centre
£1190 raised, this was an extremely successful community project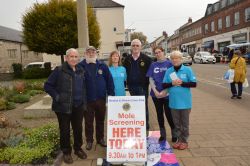 Photo: Pete Hodges - Pulmans view from Honiton
Well done to everyone from the Club to the Doctors to Cancer research (CRUK),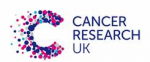 who all made the day happen, and of course the COMMUNITY with 119 people tested, getting that mole checked in 3 1/2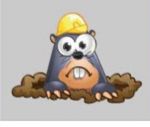 hours.
Well in excess of £1000 going to Cancer Research (skin cancer) UK.

---

Sat' 15th Oct - Honiton
Two choirs fill St Pauls Church



Another fantastic event and to a full house of over 250 people. For over 2 hours the audience were captivated by the Budleigh Salterton Male Voice Choir & Lympstone Military Wives Choir. And the best part, well in excess of £1000 collected for charity and support funding for the choirs.

---

Thur' 13th Oct - Honiton
Lions Ladies Pamper evening raise over £800 for Hospiscare & Force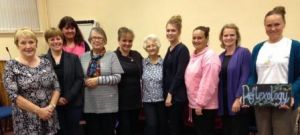 The response to the annual Lions Ladies Pamper evening was well beyond expectations, but everyone managed to get their treatment's. At the end of the day over £800 was raised towards Force-Cancer and Hospiscare – the ladies of Honiton worked their magic and thanked all the "treatment Teams" who worked wonders.
---

Mon' 10th Oct - Honiton
Dermatoscope for Honiton Surgery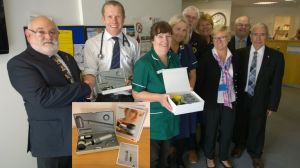 Just before the Mole Scanning day in Honiton, Lion President Brian Richards presents Dermatoscope to Dr Danny Murphy from Honiton Surgery. Dr Danny Murphy thanked the Lions saying that this was a very important medical instrument that the Honiton Lions have funded, enabling us to spot suspected skin cancers and melanomas at the surgery.
If you are new to Lionism, through these pages you will be able to find out about the work of the international organisation of Lions and our Lions Club in particular. If you are a Lion, and planning to visit our area, we hope that the information on our website will encourage you to visit us.
40 years supporting the community in 2017 Honiton Town High Street
Honiton & District Lions Club - Devon, formed in 1977


Retired or just moved into area - Want to make new friends?
Have you some time to spare?
Interested in Joining the Honiton and District Lions Club -
And help us with some of our other projects, fundraising or maybe join us for a social evening hopefully you will enjoy the activity!

Lion President Brian for 2016/17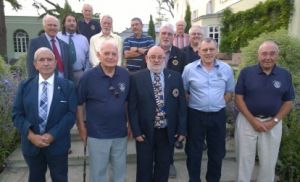 Group of the Honiton & District Lions Club members.
Some Numbers about Lions..............

Soon to be our 100th birthday